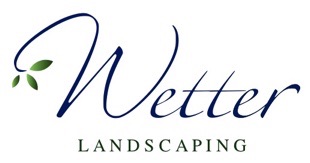 DESIGN • BUILD • MAINTAIN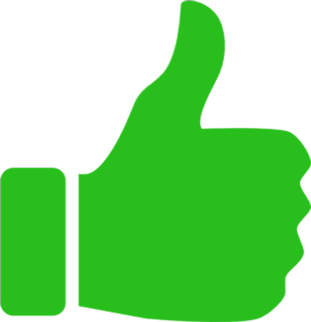 "We have used Wetter Landscaping on a number of projects that included: installing a paver walkway, installing a solid wood fence, and final grading and landscaping after an in ground pool was installed. In all cases their prices were competitive, the work completed in a timely and professional manner, and the final product always exceeded our expectations. Rob and Amanda are always friendly, helpful, and a pleasure to work with. They willingly offer suggestions that help improve the project and manage the costs where appropriate. I highly recommend them for any outdoor project."
- Edward S. North Wales, PA
Thank you for excellent service!
R.B Lansdale, PA
~
Thank you for your excellent work all summer!
R.C Gwynedd Valley, PA
~
We are very pleased with the new patio, it is beautiful and exceeds our expectations. It was a pleasure working with such a professional
and competent crew.  - J.B. East Norriton, PA
~
It's been a long time coming, but we finally had our walkway installed. I highly recommend Wetter Landscaping! They were very professional, easy to work with, and did an amazing job! - J.C. Worcester, PA
~
Thanks so much for your donation and efforts with out garden. It will be enjoyed
for years to come! - Play & Learn, Lansdale, PA.
We love when our hard work pays off with reviews like these: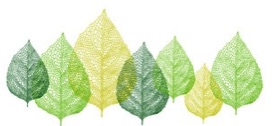 Wetter Landscaping, Inc., 2110 Wentz Church, Lansdale, PA 19446 • Email: wetterlandscaping@yahoo.com • Phone: 215-661-1966
Business Hours: Monday - Friday: 8:00 am - 5:30 pm, Saturday: 9:00 am - 4:30 pm, Sunday: CLOSED
PA Licensed Contractor #059812


Business Hours:
Monday - Friday: 8:00 am - 5:30 pm
Saturday: 9:00 am - 4:30 pm
Sunday: CLOSED
"Amanda and Rob -  I like to give credit where credit is due.  The crew that did our clean up and mulching on Thursday was  outstanding!  I know that sometimes it is hard to get crews working together as a team early in the season.  Within 5 minutes of the trucks arriving - 9 guys were fanned out across the yard edging, weeding, etc.  Their work was terrific.  We could have never made the yard look so good.  We might be inspired to talk about leaf removal this fall after seeing how quickly, efficiently, and completely the guys did this job.  We appreciate them all! The grass repair areas are starting to show a little growth.  Lets hope it continues. Happy Week." A.G. from Lansdale, PA
Amanda, I just wanted to drop you and the Wetter crew a note to tell you that your team did an amazing job on our landscaping project. It has never looked better. The guys were hard working, courteous and really strived to do a good job; and they did! You have been doing our lawn services for years and have done a great job with that as well. So often people only like to call to complain but please know we appreciate the job you do. All the best." M.S. from Harleysville
"Hey Guys. I just worked four shifts in a day and a half and came home after midnight and went to bed. When I woke up, I could think of nothing nicer than to sit on my patio, rocking on my swing, listening to the birds and just loving my patio. Thank you again!" A.B. from Lansdale
Direct reviews from our customers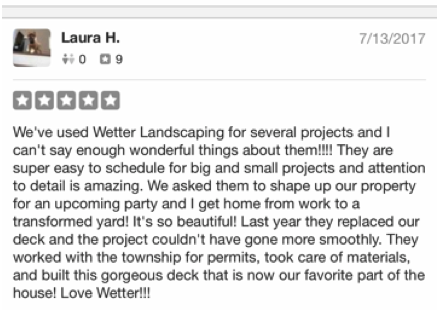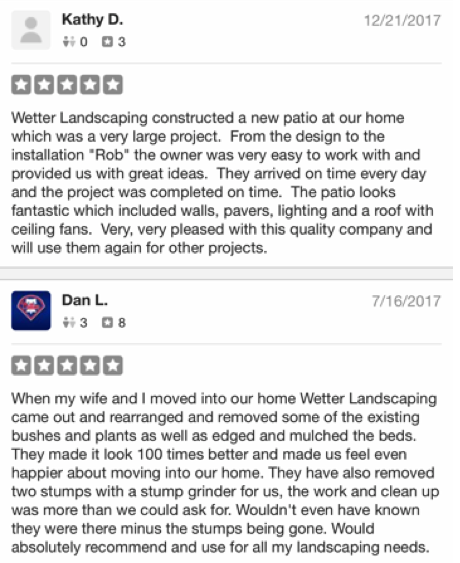 Five Star reviews from YELP